Customer Reviews
03/12/2020
Great for tummy control
The fabric is high quality even the lining and feels thick but smooth unlike others that seem flimsy. Wearing it has a slimming effect. I struggled a bit with putting it on at first but once in place it fit just right and because of the thickness you'll feel more secure it won't be translucent when wet. If you're on the heavier side, you may not be able to fully utilise the foldover feature but I'm cool with that because it's pretty as a high waist bottom.
01/21/2020
Love it!
I received the order pretty quickly, and I was blown away by the quality! It also fit perfectly.
01/09/2020
Hugs You In The Right Places But Be Cautious of The Front
As all worries go when it comes to purchasing a white bikini top or bottom, there will always be that concern about the fabric showing more than it should. While I absolutely love this bottom because it fits perfectly, I can't discount the fact that the color and fabric type shows a possibility of hugging too tight in the frontal area. If you know what I mean. Nonetheless, I am happy about my purchase, but I did hope I would feel worry free when I'm in it.
01/03/2020
The best monokini for a revealing-not-so-revealing appeal
The quality is an A+. I was hoping it would cover my belly, but it didn't as much as I wanted it to. Though it's a comfy good feel to the skin!
11/14/2019
Nice swimsuit!
Nice swimsuit!
09/12/2019
Super good quality
love the bottom & will surely order again! super kind seller & i was rushing her but she was able to deliver on the day!!! :heart:️
07/17/2019
love this for me
for the days when u feel bloated but still wanna look bomb
06/13/2019
Good fit
Good fit and very lightweight but not see through
06/10/2019
awesome quality
awesome quality
05/30/2019
Love it!
Was worried about wearing white for a bikini bottom since they're usually quite thin and transparent when wet but these were beautiful and fit so well! The fabric is layered more than twice, I think, so there's no need to worry about it becoming too seethrough when you swim! Love that you can convert it to highwaist or regular hipster bottoms. Definitely worth the price :)
Customer Reviews
09/22/2020
I recommend this product
Harper top and bottom
I love the material of the swimsuit and the design is unique. The fit is really good because you can adjust it on the side. highly recommend this product!
karren k.
Philippines
08/09/2020
I recommend this product
Great fit and quality.
I really love the fit and quality of the material. The design and functionality are really good too. On top of these, the sellers are very responsive, and shipping to La Union was fast :)
CHRISTINE B.
Philippines
Customer Reviews
08/07/2020
I recommend this product
My fave bikini
I love the quality of the material used for the bikini. The pretty ruby shade isn't an unflattering color in fact it makes your tan stand out more (In my opinion). I feel like this a bikini that anyone can pull off. Fingers crossed, Hoping next season this bikini has a Chocolate brown shade.
Celina C.
Philippines
Customer Reviews
10/12/2020
Rachel C.
Singapore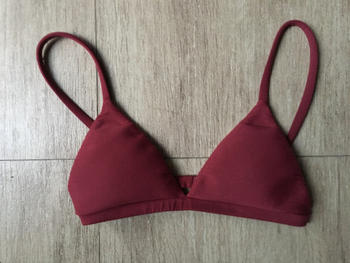 09/29/2020
I recommend this product
Amazing.
The quality is amazing and the fit is reeeally good.
Isabella G.
Philippines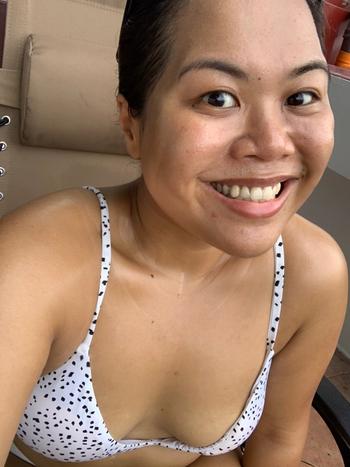 09/06/2020
I recommend this product
Top was cute
The top was really cute but not advisable for women top heavy women. Not much support.
Josephine d.
Philippines
08/31/2020
I recommend this product
Nice quality
I really liked this bikini top. The material's unique and really comfortable. It was, however, slightly on the smaller side for me.
Kate T.
Philippines
08/02/2020
Very comfortable fabric
I just love how the fabric feels very comfortable and relaxed when worn. Would definitely recommend this to friends or can work as a gift too!