Missed out the last time?
Here's your chance to finally own them.
Stop thinking twice, shop now before it's gone again.
---
Customer Reviews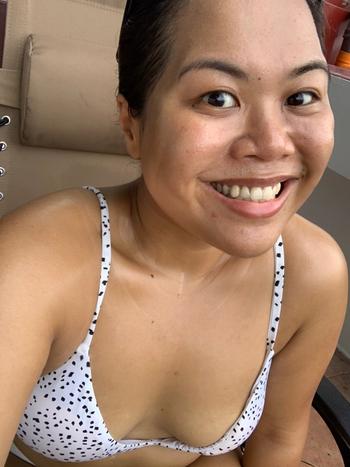 09/06/2020
I recommend this product
Top was cute
The top was really cute but not advisable for women top heavy women. Not much support.
Josephine d.
Philippines
08/31/2020
I recommend this product
Nice quality
I really liked this bikini top. The material's unique and really comfortable. It was, however, slightly on the smaller side for me.
Kate T.
Philippines
Customer Reviews
12/03/2019
I've got a pretty petite
I've got a pretty petite body type so I usually get the smallest size when it comes to adult garments (and sometimes even then, it's still loose for me). I suddenly got a text from someone who says they're from Nekid asking about my measurements and the reason being that the smallest size may be too small. I went ahead and trusted their advice since they know their product more than I do and they went through the effort of reaching out to help you out with sizing. Lo and behold, the size up for the bottoms fit me perfectly! I really appreciate how you double check with your customers and it was what finalized my decision in buying from you. I'm totes gonna come back to buy some swimsuits for the summer! :grin:
11/26/2019
Super nice :hearts:️ I love
Super nice :hearts:️ I love it
Customer Reviews
02/29/2020
Really love the item and service!
Looking forward to buying again!! I think I'll get the matching bottoms hehe
07/23/2019
Great design!
Pretty, well constructed, and flattering. It's also comfortable to wear.
04/26/2019
Love it
Its Perfect for me
04/20/2019
Love it! Perfect fit, easy
Love it! Perfect fit, easy to wear, versatile.
04/20/2019
Worth the cost
You get your money's worth by how great the quality is. It's the actual swimwear material you get compared to other online shops I've experienced. What you see online, is what you actually get, and can even exceed your expectations. Though I rated it 4 because of the little ink marks that is only visible when you look very closely, but overall, it was a great buy, and I would love to buy it's pair soon!
04/11/2019
Malva
This is so nice. fabric is excellent. Style is perfect for those who doesn't want to show too much skin but aiming for the 2-piece vibe. I love it!
Customer Reviews
03/04/2020
2 in 1
It's pretty and thick but the fabric is stretched out when I got it. The stomach part is too loose
03/07/2020
Nekid Swimwear
Hi Faith! Sorry to hear the waistband area is loose on you. It's really designed that way & not "stretched out", it's so it would be easy to convert it to a hipster fit. If we make it too tight it wouldn't be foldable anymore.
Customer Reviews
08/26/2020
I recommend this product
GREAT DESIGN
Great fit & design! Fits me perfectly & enhances the curves due to the design.
May Y.
Philippines
Customer Reviews
11/06/2019
Pippa Top and Bottom Neon Palm
Hello! I was skeptical at first when I ordered from Nekid since my body is very picky when it comes to swimwear. This is also my first ever purchase of clothing online! So far I was not disappointed! The bottom fits really well. As for the top, it fits my bust well and was snug. However, since I am around a cup C, the width of the bandeau was a little short. I haven't tried swimming yet so I am not sure if it would slip, but aside from that, i am pretty much satisfied. :) Hoping you guys can create bikinis with better support someday! Thank you!
Customer Reviews
09/22/2020
I recommend this product
Perfect Fit
I have yet to wear it on my next beach trip but the fit was exactly how I was hoping it to be. :)
Anna M.
Philippines
09/03/2020
I recommend this product
❤️
I'm inlove with this swimwear❤️
Rah
Philippines
08/17/2020
I recommend this product
Willow top and bottom
I love the clean lines and square look of the willow set. It flatters my broad shoulders and the low waist bottom hugs at the right prices. The minimalist design of back of the willow is sexy but sophisticated.
AD
Philippines
04/17/2020
Love it! Its comfortable and
Love it! Its comfortable and snug to ensure coverage for any beach activity.
03/12/2020
Unique design, excellent quality
The Willow top is popular for a reason. The design is unique and not something offered by other swimwear brands. Fabric quality and construction is top notch and it's fully lined. Nekid swimwear also has excellent customer service which I truly appreciate.
01/10/2020
Fits like a glove
Absolutely recommend this bikini top. it's pure perfection!
11/22/2019
Good quality
Very nice quality of fabric
10/04/2019
Very comfortable!
Very comfortable!
09/10/2019
Love everything about this suit:two_hearts:
Love everything about this suit:two_hearts:
06/16/2019
Love it
The material is nice and it's really flattering!
Customer Reviews
03/12/2020
Great for tummy control
The fabric is high quality even the lining and feels thick but smooth unlike others that seem flimsy. Wearing it has a slimming effect. I struggled a bit with putting it on at first but once in place it fit just right and because of the thickness you'll feel more secure it won't be translucent when wet. If you're on the heavier side, you may not be able to fully utilise the foldover feature but I'm cool with that because it's pretty as a high waist bottom.
01/21/2020
Love it!
I received the order pretty quickly, and I was blown away by the quality! It also fit perfectly.
01/09/2020
Hugs You In The Right Places But Be Cautious of The Front
As all worries go when it comes to purchasing a white bikini top or bottom, there will always be that concern about the fabric showing more than it should. While I absolutely love this bottom because it fits perfectly, I can't discount the fact that the color and fabric type shows a possibility of hugging too tight in the frontal area. If you know what I mean. Nonetheless, I am happy about my purchase, but I did hope I would feel worry free when I'm in it.
01/03/2020
The best monokini for a revealing-not-so-revealing appeal
The quality is an A+. I was hoping it would cover my belly, but it didn't as much as I wanted it to. Though it's a comfy good feel to the skin!
11/14/2019
Nice swimsuit!
Nice swimsuit!
09/12/2019
Super good quality
love the bottom & will surely order again! super kind seller & i was rushing her but she was able to deliver on the day!!! :heart:️
07/17/2019
love this for me
for the days when u feel bloated but still wanna look bomb
06/13/2019
Good fit
Good fit and very lightweight but not see through
06/10/2019
awesome quality
awesome quality
05/30/2019
Love it!
Was worried about wearing white for a bikini bottom since they're usually quite thin and transparent when wet but these were beautiful and fit so well! The fabric is layered more than twice, I think, so there's no need to worry about it becoming too seethrough when you swim! Love that you can convert it to highwaist or regular hipster bottoms. Definitely worth the price :)
Customer Reviews
05/13/2020
foxy in lockdown
thank you for this piece guys. I love how it hugs me in the right places and motivates me this lockdown to work on abs more!:))
Customer Reviews
05/07/2020
nice material true fit unique
nice material true fit unique design
Customer Reviews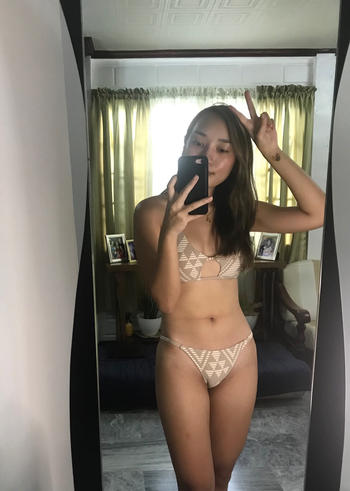 09/22/2020
I recommend this product
Kora bottom in Geometric Sand
The Kora bottom fits me so well! I'm usually XS to S and I followed their advice to size up if you're bordering the smaller size. True enough, this fits me exactly! So if you're a S to M, you might want to get M instead. It's so soft and buttery, I love it so much!
Patricia E.
Philippines